Welcome to Kenrol Brahman Stud
Kenrol is owned and operated by Ken and Wendy Cole and their family. Situated just 10 kilometres from Rockhampton this 1000 acre property is ideally located for our custom feeding service having easy access to the Gracemere Saleyards, just 8 kilometres away.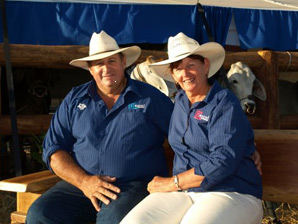 Kenrol stud was started in 1968 and runs 100 grey and red breeders. The past fifteen years has seen the introduction of embryo programmes using some of the best genetics in the Brahman breed, with the goal of quality rather than quantity. The stud is now introducing some polled genetics in both the red and grey herd.
A licensed Embryo collection centre has been established on the property for which embryos can be collected for export overseas. Since 2003 embryos have been collected at the centre and exported to New Caledonia , Brazil, New Zealand and Indonesia.
Please call in for a cuppa and sneak preview of the herd whenever you are going past.
– Ken & Wendy Cole
Last Updated  5/02/2014